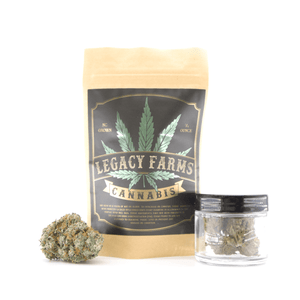 Legacy Farms Grade A Flower
Grade A Indoor Flower by Legacy Farms Cannabis
Legacy Farms' Grade A Hemp Flower was harvested in late 2020 and early 2021 from indoor grow rooms in North Carolina and Oregon. Perfect for those looking for premium, dense, CBD or CBG rich flower, fresh off the plant.
Legacy Farms Cannabis partners with the Hemp Farmacy to provide quality, safe, locally grown hemp. Legacy Farms is based out of the NC Hemp Farm in Wallace and East Coast Genetics in Wilmington, where hemp is organically grown by passionate farmers who seek to educate through transparency. Learn more.
Lab Reports: 
White: 13.35% CBG (Hybrid) 
Kashmere Klouds: 12% CBG (Hybrid)
Bubba Kush: 15% CBD (Indica Hybrid)
Homewrecker: 9.5% CBD (Indica Hybrid)
Chonky Donkey: 7.7% CBG, 17.05% CBD (Hybrid)
Green Mirage: 5% CBG, 16.63% CBD (Hybrid)
Apollo 21: 10.62% CBG (Hybrid)
Golden Kush: 12% CBD (Hybrid)
Lemon Drop-Top: 11.5% CBD (Hybrid Sativa)
Critical Mass: 5.6% CBG, 20.32% CBD (Hybrid Indica)
Blue Dream: 11.70% CBD (Hybrid Sativa)
Sour Suver Haze: 12.65% CBD (Hybrid)
This product does not contain marijuana. Legacy Farms Cannabis exclusively grows Department of Agriculture licensed hemp that is lab certified with <0.3% THC.